This summer's firing was what I view to be our best firing ever. I say this because the overall quality of the pieces was so varied and beautiful. The success rate was in the high 90's and I couldn't be happier with the level of quality. The results reflect the effort we've put in as a team of wood-fire potters. The crew is evolving to comprise more professional potters than former students...a progression I hadn't anticipated but welcome. Former students are absolutely still a factor...just nice to be working with potters that are fully committed to the craft.
The difference this time around had a lot to do with the stack. More pieces than ever before were packed into the kiln. We've added a second firebox to one side at the center of the chamber...it's 2' deep and 18x18" high and wide. Because we packed the kiln super tight...the secondary firebox aka the Nos....didn't have the jet fuel effect this time around regarding temp gain but the flashing to the back side was amazing. Blown away by the effects of wood and atmosphere. We're in a new chapter and could not be more thankful for the people that contribute! Next time around, more porcelain and bigger pieces.. Looking forward to the next big fire summer 2019.

Powered by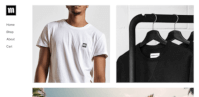 Create your own unique website with customizable templates.